Any team interested in participating in RoboCup 2019 must successfully pass the league specific qualification process.
The league deadlines usually close around December – January. Please note that the criteria for qualification and deadlines for submitting all qualification material will vary for each league.
To stay up to date on RoboCup 2019 news, please complete the link below.
Register your Expression of Interest
Floor Plans
Freight
DB Schenker Australia has been appointed exclusive onsite logistics provider and official freight forwarder for RoboCup 2019. If you are a participant competing at RoboCup 2019 and not located in Australia, DB Schenker can provide comprehensive freight forwarding services, tailored to each participant through our extensive network of over 2,000 locations globally. DB Schenker offer and specialise in the following areas:
RoboCup 2019 strongly recommends that you consider the use of our official logistics partner in order to obtain safe and smooth logistics service for your precious robots and equipment.
Event logistics management
Worldwide transportation
Customs & quarantine formalities
Storage of full/empty boxes
Return transport or on-forwarding
Sensitive freight services
Timely door-to-venue & venue-to-door delivery service
Air, ocean and land transport
Loading dock traffic management
Equipment (forklifts, cranes, trolleys) & manpower hire
Event logistics management
The process at a glance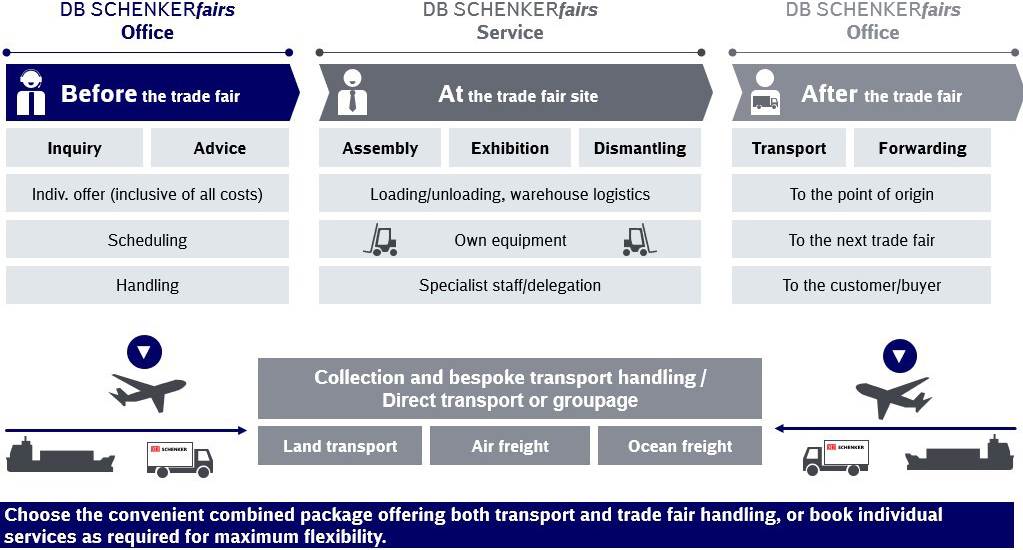 Logistics
If you are sending freight to RoboCup 2019 you MUST complete one of the forms below.
FORM A – Full Transport Service Booking Form (Domestic)
Participants who require full transport from your premises and delivery directly to the ICC Sydney and the returning back to your premises within Australia. Please complete and return to 12 June for a full quote.
FORM B – Loading Dock Booking & On-site Handling Form
Participants who would like to access the loading dock using their own vehicles or suppliers during set up and pack down are required to fill in this form and return by 12 June. Please note that you can only delivery to the venue on Tuesday 2 July and Wednesday 3 July.
Download the Loading Dock Booking & On-site Handling Form
FORM C – Advanced Warehouse Booking Form
Participants can also choose to send their freight to Schenker's Sydney warehouse. Schenker will then arrange transport from their warehouse to the ICC Sydney and return (if required). Charges apply.
Download the Advanced Warehouse Booking Form
FORM D – ALL International Enquiries
For all International requests please contact Steven or Adam below. They will put you in contact with your local representative who will forward all relevant forms for your country.
Airfreight
All freight arriving into Sydney via airfreight should arrive in Sydney Airport by 19 June.
Ocean Freight
All freight arriving into Sydney via ocean freight should arrive in Sydney Port by 14 June.
Terms & Conditions
Schenker terms & conditions attached for your reference.
Important Information
Lithium Battery Guidance
For the safe transportation of Lithium Batteries, please check the Lithium Battery Guidance Document developed by IATA.
Contact
Prior to the exhibition, DB Schenker will contact all participants to discuss individual transportation and other logistics requirements. In the meantime, to request a quote, please complete and return the relevant form. For further information, please contact:
Venue
RoboCup 2019 will be held at the new International Convention Centre in Darling Harbour, Australia's premier integrated convention, exhibition and entertainment precinct. The venue is centrally located and easily accessible by ferry and bus services, and only a ten minute walk from Central and Town Hall train stations.
The ICC Sydney boasts world class technology and services, providing comfortable conference facilities, purpose-built spaces, theatres and networking lounges to facilitate all your professional needs.
Featuring a striking contemporary design, ICC Sydney is a beacon of innovation, learning and entertainment, connecting and celebrating leaders of invention, business, governance and the arts.
Address
ICC Sydney
14 Darling Drive
Darling Harbour NSW 2000
Phone: 02 9215 7100
About Sydney
Sydney if Australia's largest and oldest city, with a rich multicultural history. The city surrounds the largest natural harbour in the world, Port Jackson, which includes Sydney Harbour, Manly and Darling Harbour. This multi-cultural city also has an impressive line-up of festivals and events and a vibrant dining scene that includes Quay and Sepia, which feature on the prestigious S.Pellegrino World's 100 Best Restaurant List.
Beyond the city you will find historic wine regions, such as the Hunter Valley, coastal retreats and forest landscapes, including the World Heritage listed Blue Mountains, all of which offer locations to host memorable events and team-building activities.
Climate
Sydney has a Mediterranean climate. Average maximum temperature:
| Month | Jan | Feb | Mar | Apr | May | Jun | Jul | Aug | Sep | Oct | Nov | Dec |
| --- | --- | --- | --- | --- | --- | --- | --- | --- | --- | --- | --- | --- |
| Temperature °C | 26° | 26° | 25° | 22° | 19° | 17° | 16° | 18° | 20° | 22° | 24° | 25° |
| Temperature °F | 79° | 79° | 77° | 72° | 66° | 63° | 61° | 64° | 68° | 72° | 75° | 77° |
How to get from the airport to ICC Sydney
Sydney Airport is about 10 km from the ICC Sydney and easily accessible by train, bus or car.
Trains depart frequently from underground stations in the airport's domestic and international terminals.
Public buses depart from bus stops outside T1 and T3 (but not T2).
Shuttle buses will deliver passengers to their hotel. Reservations at T1 and T3 information desks.
Taxis are available from organised taxi ranks directly outside the terminals.
Rental cars are available at all terminals from various rental companies.
Personal pickup – there are various passenger pickup zones. For details, check out Sydney Airport's website.
Three passenger terminals at Sydney Airport are
T1: International Terminal is used for international flights. It is open every day from 3am to 11:30pm. Customs are opened for departures passenger processing at 4am daily.
T2: Domestic Terminal is used by domestic and regional airlines including Jetstar, Virgin Blue and Tiger Airways. T2 Domestic Terminal is open every day from 4am to 11pm.
T3: Qantas Domestic Terminal is used for Qantas domestic flights. It is open every day from 4:45am to 10pm.
Transport Options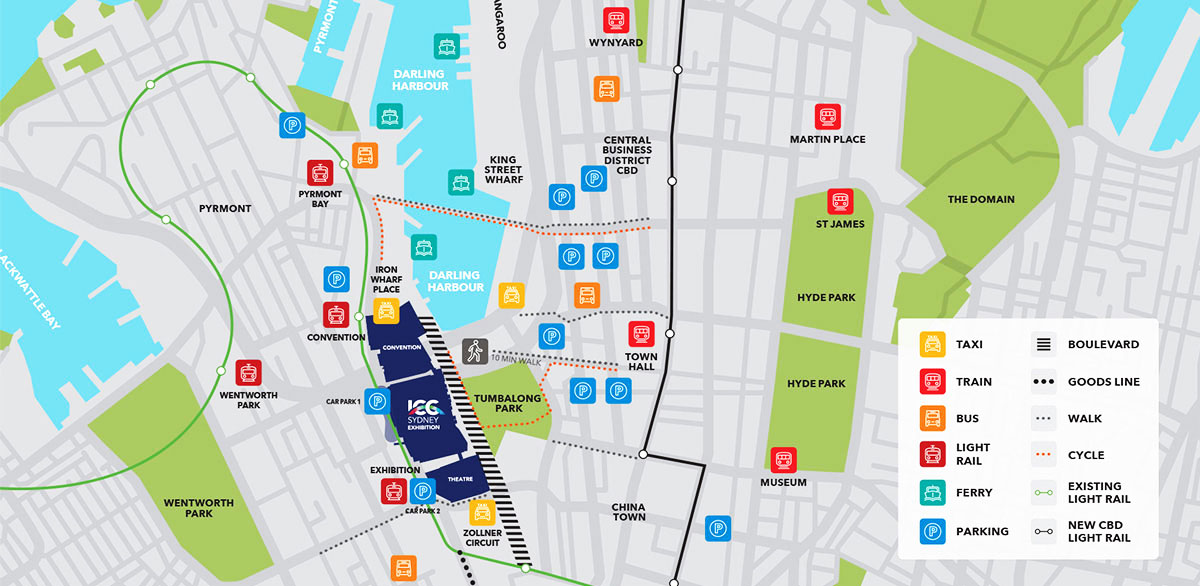 An efficient network of transport options make travelling to attractions in Sydney and regional NSW affordable and enjoyable. The Sydney public transport system, provided by Transport for NSW, consists of trains, buses, ferries and light rail. Use trop planner at transportnsw.info to plan your travel.
The Opal card is an easy, convenient way of paying for your travel on public transport in Sydney. It's the only card you'll need to get around on all public transport including trains, ferries, buses and light rail. For more information, visit www.opal.com.au.
Things to See