Freight
DB Schenker Australia has been appointed exclusive onsite logistics provider and official freight forwarder for RoboCup 2019. If you are a participant competing at RoboCup 2019 and not located in Australia, DB Schenker can provide comprehensive freight forwarding services, tailored to each participant through our extensive network of over 2,000 locations globally. DB Schenker offer and specialise in the following areas:
RoboCup 2019 strongly recommends that you consider the use of our official logistics partner in order to obtain safe and smooth logistics service for your precious robots and equipment.
Event logistics management
Worldwide transportation
Customs & quarantine formalities
Storage of full/empty boxes
Return transport or on-forwarding
Sensitive freight services
Timely door-to-venue & venue-to-door delivery service
Air, ocean and land transport
Loading dock traffic management
Equipment (forklifts, cranes, trolleys) & manpower hire
Event logistics management
The process at a glance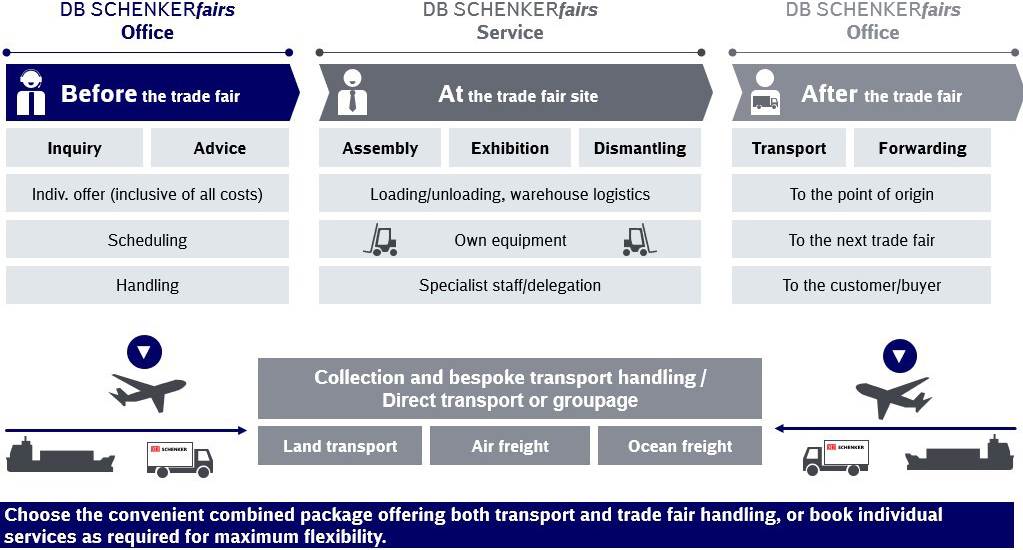 Logistics
If you are sending freight to RoboCup 2019 you MUST complete one of the forms below.
FORM A – Full Transport Service Booking Form (Domestic)
Participants who require full transport from your premises and delivery directly to the ICC Sydney and the returning back to your premises within Australia. Please complete and return to 12 June for a full quote.
FORM B – Loading Dock Booking & On-site Handling Form
Participants who would like to access the loading dock using their own vehicles or suppliers during set up and pack down are required to fill in this form and return by 12 June. Please note that you can only delivery to the venue on Tuesday 2 July and Wednesday 3 July.
Download the Loading Dock Booking & On-site Handling Form
FORM C – Advanced Warehouse Booking Form
Participants can also choose to send their freight to Schenker's Sydney warehouse. Schenker will then arrange transport from their warehouse to the ICC Sydney and return (if required). Charges apply.
Download the Advanced Warehouse Booking Form
FORM D – ALL International Enquiries
For all International requests please contact Steven or Adam below. They will put you in contact with your local representative who will forward all relevant forms for your country.
Airfreight
All freight arriving into Sydney via airfreight should arrive in Sydney Airport by 19 June.
Ocean Freight
All freight arriving into Sydney via ocean freight should arrive in Sydney Port by 14 June.
Terms & Conditions
Schenker terms & conditions attached for your reference.
Important Information
Lithium Battery Guidance
For the safe transportation of Lithium Batteries, please check the Lithium Battery Guidance Document developed by IATA.
Contact
Prior to the exhibition, DB Schenker will contact all participants to discuss individual transportation and other logistics requirements. In the meantime, to request a quote, please complete and return the relevant form. For further information, please contact: