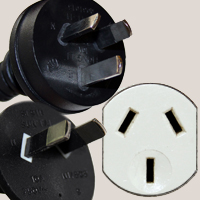 The electricity in Australia is 220/2240 volts AC, 50Hz with three-pin plugs. This is Australia wide. Some hotels may provide power adaptors, however on site at the Conference venue no adaptors will be available. So make sure you pack an adaptor so you can charge your phone, laptop etc. during your stay.
Australia requires a Type I – three pin adaptor.
For more information click here
Tag and Testing
All electrical equipment used at the ICC Sydney will need to be tested and tagged to Australian standards by a certified electrician. On the Tuesday and Wednesday for the Major Leagues and Wednesday for the Junior Leagues, Electrical staff will visit each League to check tags and will also be able to test and tag items. There is no charge for the test and tag service. Please note that even new items purchased in Australia in packaging still require testing and tagging.
Please note that CE tagging is not recognised in Australia. This means that any item with a CE tag is not venue approved and will require testing and tagging on site.